Anthropos India Foundation
AIF LECTURE SERIES - Prof Subhadra Channa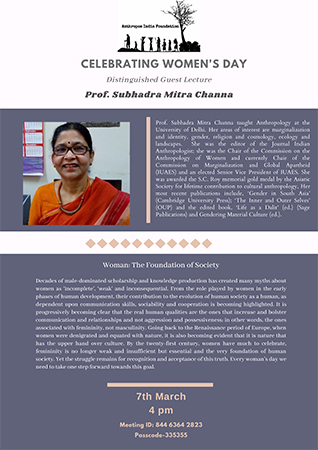 Prof. Subhadra Mitra Channa taught Anthropology at the University of Delhi. Her areas of interest are marginalization and identity, gender, religion and cosmology, ecology and landscapes. She was the editor of the Journal Indian Anthropologist; she was the Chair of the Commission on the Anthropology of Women and currently Chair of the Commission on Marginalization and Global Apartheid (IUAES) and an elected Senior Vice President of IUAES.
AIF LECTURE SERIES - Dr Alison Kahn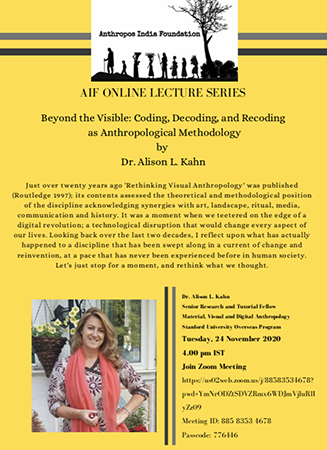 Beyond the Visible: Coding, Decoding, and Recoding as Anthropological Methodology by Dr. Alison L. Kahn. Dr. Alison L. Kahn is a Senior Research and Tutorial Fellow Material, Visual and Digital Anthropology Stanford University Overseas Program. 
AIF LECTURE SERIES - Dr. Kartic Godavarthy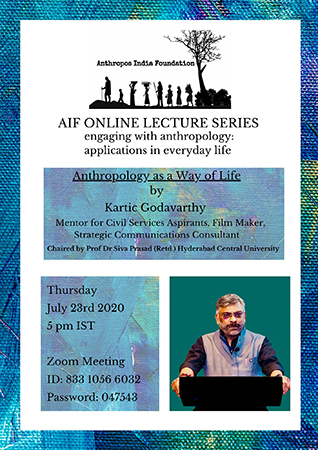 Dr Kartic Godavarthy, Founder, Prabodha Training and Consulting shared his journey in the talk titled 'Anthropology as a Way of Life' (23rd July 2020). He elaborated how his training in anthropology immensely helped him in his work and encouraged young scholars to explore various dimensions and use anthropological knowledge to enhance their work-life.
AIF LECTURE SERIES - Bhaskar Venatesh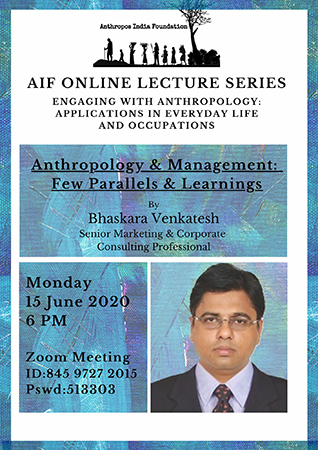 Bhaskara Venkatesh, Senior Marketing and Corporate Consulting Professional drew an outline on Anthropology and Management: Few Parallels and Learnings' (15th June 2020). The talk emphasized on the overlapping concepts in management and anthropology and discussed some crucial concepts on culture and human behavior that are used in the corporate/organization's environment.
AIF LECTURE SERIES - Dr. Siva Prasad
Prof. R Siva Prasad, Honorary Professor, e-Learning Centre, Formerly Professor of Anthropology, University of Hyderabad discussed on 'Resources, Livelihoods and the Marginal Communities: An Anthropological Understanding' (1st June, 2020). By bringing into focus issues about livelihood of marginal communities the lecture highlighted how development dispossess tribal/ rural/marginal communities and disconnects them from their primary mode of sustenance i.e., land and forest resources. The lecture discussed the role of these imposed changes in compelling them to migrate to urban areas that leads and situations of further distress.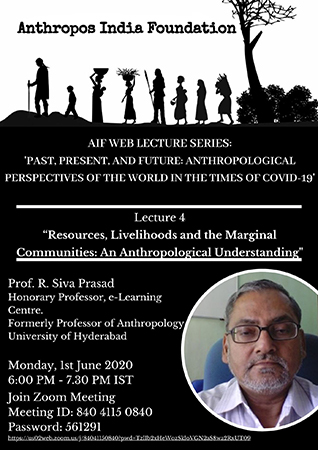 AIF Lecture Series - Dr. Siva Prasad
AIF Lecture Series - Dr. Siva Prasad Part 2
AIF LECTURE SERIES - Dr Kumkum Srivastava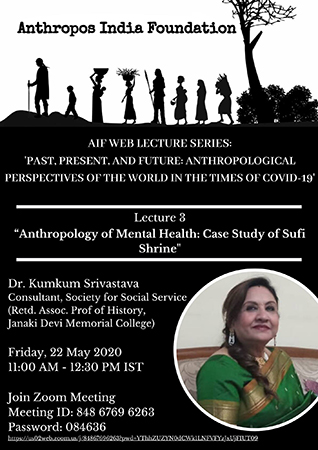 Dr. Kumkum Srivastava, Consultant, Society for Social Service (Retd. Associate Professor of History, Janaki Devi Memorial College, University of Delhi) gave a lecture on Anthropology of Mental Health: Case Study of Sufi Shrine' (22nd May, 2020). She foregrounded the issue of mental health, the stigma attached to it; how social conditions as well as context play a crucial role in compelling people to visit faith healers and indulge in various ritual healing processes. From an anthropological viewpoint she argued the merits of bringing together spiritual and medical interventions and elaborated how the suggested solution may prove to be more fruitful while dealing with mental health cases in a country like India.
AIF LECTURE SERIES - Prof. Vinay Kumar Srivastava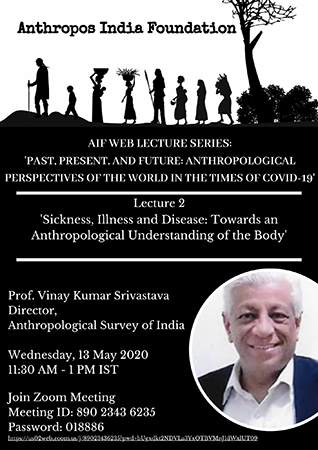 Anthropos India Foundation brings to you 'Sickness, Illness and Disease: Towards an Anthropological Understanding of the Body' as part of its online web lecture series. The speaker, Prof. Vinay Kumar Srivastava is a Professor of Anthropology, retd. from Dept. of Anthropology, Delhi University, and presently Director Anthropological Survey of India. He is author of many books written on themes, perspectives, and methods in Anthropology.
AIF LECTURE SERIES - Prof. PC Joshi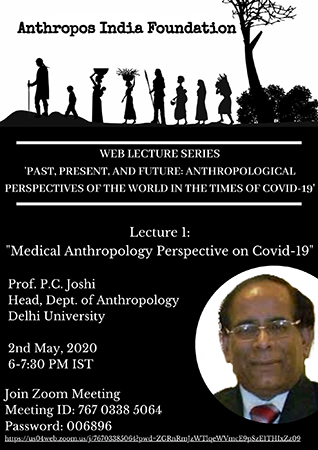 Professor P C Joshi, Head of the Department of Anthropology, University of Delhi gave a lecture on the Medical Anthropology perspective on COVID' (2nd May 2020). He highlighted the effect of the COVID Pandemic worldwide and how anthropological interventions can help us in understanding the phenomena and the steps that can be taken to deal with it.